What follows is by no means a conclusive review of the best albums and mixtapes of the past year. Rather a snapshot of ten of my favourites. I've chosen to include not only artists who willingly embrace nerdcore, but also those producing great hip-hop with nerdy references who are well respected within the scene, but don't actively associate with it.
10

¦ Milo ¦ I Wish My Brother Rob Was Here

A truly understated album with some of the most creative lyricism around. The production is distinctly lo-fi, but if you're able to look past that and focus on the content of the lyrics and the fluid delivery there's so much to enjoy.
9

¦ Torrentz ¦ The Big Kahuna
The international collective working under the guidance of Milk Plus created an album stacked with catchy as hell songs with a food theme. Production levels are professional and the delivery from everyone involved sets a high standard.
8

¦ The Thought Criminals ¦ Cold Winter

One of few actual nerdcore bands, The Thought Criminals really took off this year with not just this release but a live album and solo projects from both Mikal kHill and Sulfur, the figureheads of the group.
7

¦ Various Artists ¦ Nerdcore Now Volume One
From the centre of the Nerdcore universe comes the first annual Nerdcore Now compilation. Formally Rhyme Torrents, 9 compilations of this kind came before and the quality improves each year.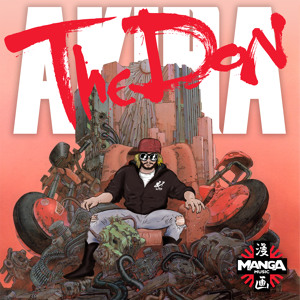 6

¦ Akira The Don ¦ Manga Music
With his 26th!!! mixtape, Akira The Don took samples from Manga Entertainment releases to produce a real labour of love as a mixtape he always wanted to make but wouldn't until he had the ability to do it justice.
5

¦ Twin Peaks ¦ Kissing Hands and Shaking Babies
A collaborative effort from Canadian duo, Ghettosocks and Muneshine displaying the professional production we've become accustomed to from these guys with the catchy hooks and seasoned flow.
4

¦ The Thought Criminals & Shane Hall ¦ Whatevermore: Live From The Raven

A second entry for The Thought Criminals displaying how a live nerdcore show should be done. At times reminding me of Optimus Rhyme, live albums are rare on the nerdcore scene.
3

¦ Supercommuter ¦ Products of Science
Featuring the vocals of Wheelie Cyberman formally of Optimus Rhyme this second album from Supercommuter exhibits the very best in chip-hop. If electronic beats with a fast fluid rapper is your thing, this is your thing.
2

¦ Adam Warrock & Mikal kHill ¦ The Browncoats Mixtape

A third entry for Mikal kHill from The Thought Criminals which shows just how prolific he's been this year. This time around it's in the capacity of producer for this Firefly / Serenity concept mixtape. All the beats are worked from the Sci-Fi show with brilliant raps from the great talent, Adam Warrock.

----------------------------------------------------------




1

¦ MC Frontalot ¦ Solved




Top of the pile for this year is the godfather of nerdcore, MC Frontalot. It's almost too obvious to place Solved in the number one spot and upon initial listens I wasn't particularly taken by his fifth album release. But the more I've listened to it the more songs like, Invasion of the Not Quite Dead and Stoop Sale have really grown on me and just like his previous albums I find myself going back to it over and over. Frontalot continues to produce consistantly high quality albums and it's no fluke that he is able to make a living from making music.